10/13/2007
all these wounded boys you lie beside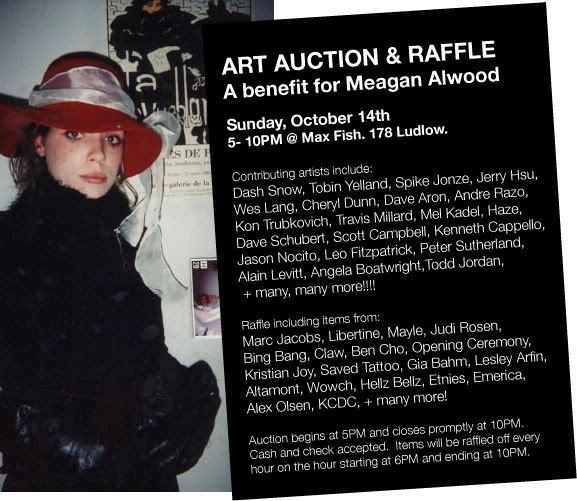 my friends at Max Fish have this going on sunday. it's a great way to get some epic shit for a good worthy cause to help out Boatwright's roommate.
Comments:
Who's that girl on the flyer!?? she looks amazing. That hat is terrific.
What a pity i won't be in town this Sunday!
that's Meagan who the benefit is for.
here is the situaish as told by angela boatwright..
"On Friday September 21st after a fun night my roommate, Meagan and myself were returning home when she accidentally fell through an empty space in our building created by a spiral staircase. She fell three stories straight onto a concrete floor, breaking her pelvis and back. Although she is incredibly lucky to be alive she didn't sustain any internal injuries and will be able to recover fully.
Unfortunately, she didn't have health insurance and the initial emergency room visit combined with a 13-day stay in the hospital have left her with enormous unpaid medical bills. I have known her for over 23 years, she is my best friend and throughout all of this she has become incredibly strong. She is indescribably grateful and humbled by this art auction."
sucks you will not be able to attend.
Post a Comment
Subscribe to Post Comments [Atom]
<< Home
Subscribe to Posts [Atom]