1/31/2008
oh, this world may lack style, i know
1/30/2008
your brain seems bruised with numb surprise
let me sleep all night in your soul kitchen
Excitingly enough, I received the new issue of Nylon that features the Kills on the cover. Now, I've never been excited over Nylon except maybe the first time I found it many years ago, boarding a british airways flight and spying the eye catching cover on my way past a gift shop, stopping to pick up this mag I had never seen before. I liked it for a while but then stopped reading it altogether because they weren't really telling me anything new aside from lots of new bands I did not want to get to know. I kept reading the Face and Jalouse and left it at that.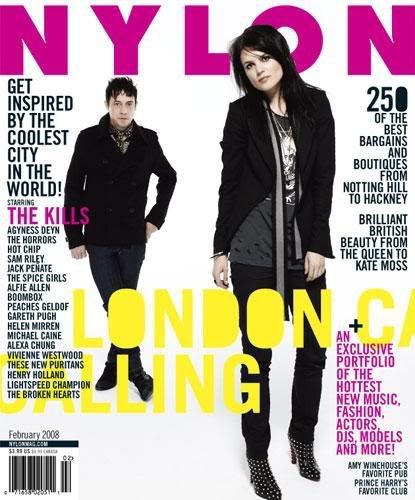 So why was I excited this time? Besides being very proud of my old friends for grabbing the cover (and appearing in the famed Louboutin spiky boots) and a killer interview? Because somehow it was free! Yes maybe signing up at the
Urban Blog
(who I, don't forget,
write
for) for a free subscription actually worked because I can't really explain it any other way and who doesn't like free stuff? Anyway, unfortunately most of the issue was a throw-away but I read the Kills
article
out loud to my fiancé and even he was stoked on them at the end of it.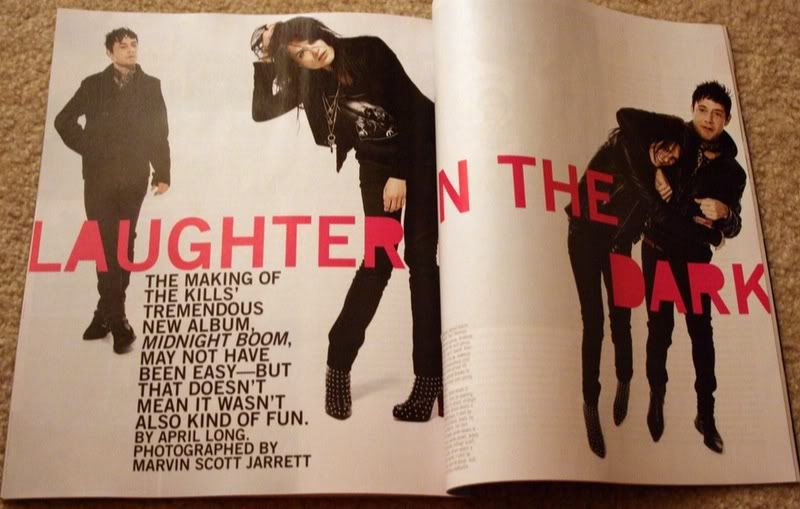 Oh and the best part? While they don't usually use stylists, the Nylon team did pick numerous black garments to be worn throughout, most of the clothing is their own (but it would be great if she were able to take the boots home). I found the mag shot on TFS but if anyone wants to read the actual article I can probably photograph it for the blog.
Labels: the kills
they'll kick you when you're up and knock you when you're down
but don't expect the most if you can't take the least
speak in secret alphabets
1/29/2008
motel money murder madness
1/28/2008
oh trouble can't you see you have made me a wreck now won't you leave me in my misery
1/26/2008
may the lines sag, may the lines sag heavy and deep tonight
1/25/2008
capture your heart and hold it for ransom
1/24/2008
i stood up and walked out of the arms of venus de milo
to make such a promise and make such a slip
1/23/2008
hot on the heels of love
now you give me no trouble and you give me no help
we were clutching for straws, now we're gonna drink a fifth
some come off trackin it in, oh what is it, what's the prediction?
suddenly my eyes were so soft and shaky
it's all like some new kind of drug, my senses are sharp and my hands are like gloves
1/22/2008
i am the stand-off, i see no destructive urges
i remember the light of darkness doubled
i would rather not go back to the old house
i'm not seventeen and going on nowhere fast
triggering every sensor-security light
let me welcome you to the climate of fear
Subscribe to Posts [Atom]