1/23/2008
suddenly my eyes were so soft and shaky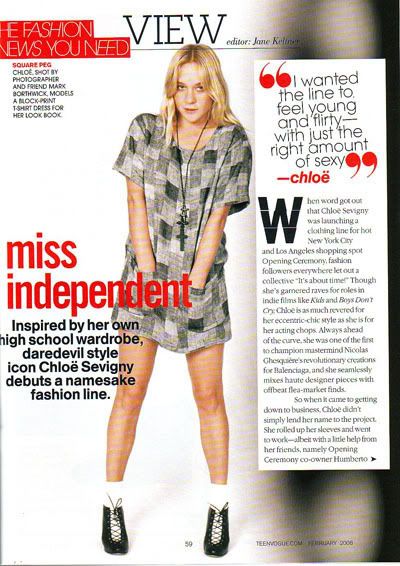 Photos of the full collection Chloe Sevs did with Opening Ceremony are trickling out and things are looking great. Specifically these booties that I'm sure will fly off the shelves. That dress is also something you can perfectly throw on in the morning with (hint hint) those heels and be ready in 5 minutes flat. I guess what we're all wondering is what the prices are going to be like. Even Chloe herself has said she wished they were cheaper, so that the girl she designed them after (herself when she was a teenager growing up in CT) would be able to afford everything. Apparently that is not so with the cost of each piece but I'm sure that won't hinder the sales. Thanks to Elizabeth at WL for scanning these in from the new Teen Vogue.
Labels: chloe, opening ceremony
Comments:
im doing a photo shoot next sunday and im trying LIKE CRAZY to get chloe sevigny for OP clothing for it but with fashion week on view is just "forget about it"... i want to kill someone now!
Post a Comment
Subscribe to Post Comments [Atom]
<< Home
Subscribe to Posts [Atom]