2/07/2008
burning hopes and dreams and even impossible schemes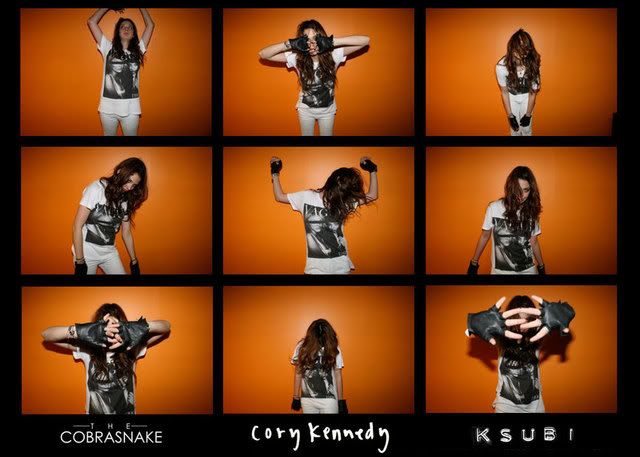 So basically all the hating on Cory Kennedy has pretty much made me dig her now. I am not fond of many people to begin with but one teenage girl getting so many harsh words from a shitload of people who are just jealous & etcetera just doesn't make sense. Anyway, she just did this shirt with Ksubi (who I love) that you can find for $
109
. While I won't be picking it up, I'm sure there are a number of people who will and the price being the usual for their t-shirts, they are going to make a killing, proving this to be a very smart move on their behalf.
Love her or hate her, she's not going anywhere.
Labels: ksubi
Comments:
I have nothing against the girl... never understood all the hating to begin with and never really formed a strong opinion about her either. Having now seen her in the flesh, I can see why there is that love/hate thing though.... it's symptomatic of a lot of fashion figures that either bewilder or inspire....
I never understood the whole Cobrasnake mystique. I've been to one of his parties (work-connections-blah-blah-blah) and it was full of thrifty-looking underage girls and boys jumping on couches and being idiots. How Cory Kennedy came to where she is just from being his muse I'll never know; I'm just bewildered that there are so many other people doing what Mark Hunter does, but better, and don't get the madcrazypress.
Post a Comment
Subscribe to Post Comments [Atom]
<< Home
Subscribe to Posts [Atom]