3/26/2008
these corrosives do their magic slowly and sweet
Very into these two necklaces I scored last night from F21. The lightning bolt one actually broke while we were standing in line but my boyfriend took care of it for me and it was already marked way down so whatever. That was just more proof of not to spend even a little money on anything in there. The second one reminds me of another high end necklace, I just can't place where from.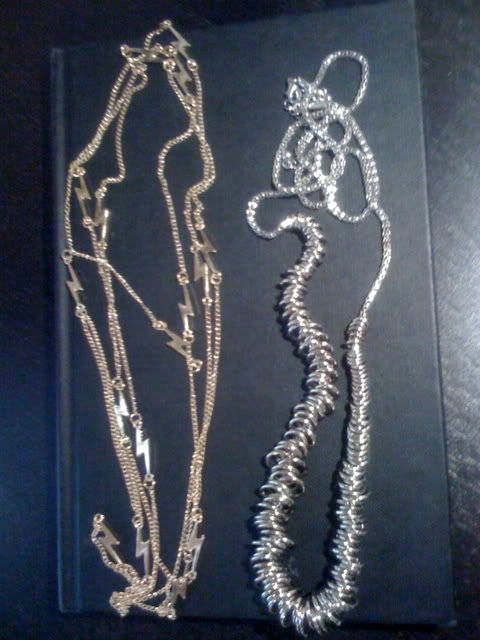 I've never read Radar Mag before but I got a copy of the latest issue for free and besides the highlight of the owner of Rock & Republic and her Chanel addiction (motherfucker has TWO SURFBOARDS and is getting THE BIKE) there was an in depth article on Forever 21 and all their goings on. The story kind of made me laugh out loud when they said F21 find new young designers and hire them if they're christians and attend church regularly. Of course Radar found one of the young hopefuls who said she "found god" with the F21 owners and is so happy and stoked on jesus now and even prays with the owner broad. Hell, for a buck I think anyone would claim they're an insane jesus freak but I guess if you can easily dupe someone into paying you for saying you're into god, go for it. You can read most of it
online
.
Anyway, I was on a search for Chanel eyeshadow in "sunset gold" which is gold & black (see above) and every shop I tried was out of it! So we came home and after finding it's even sold out everywhere on line as well, I ebayed it for half the price.
Labels: chanel, satan and skatin' go hand in hoof
Comments:
I had a dream that I was applying black and gold eyeshadow - did not know it even existed. Now I find out it is sold out, the literal make-up of my dreams!
Post a Comment
Subscribe to Post Comments [Atom]
<< Home
Subscribe to Posts [Atom]