3/25/2008
wherever you are you're invited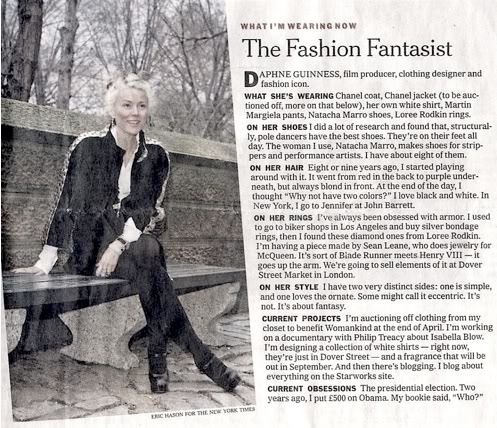 In case you missed the NY Times on Sunday there was a great surprise! Daphne Guinness popped her head up while I was turning the pages and luckily her blog on Starworks featured this scan of the article. If she is indeed going to design a few rings, I am looking very forward to buying one or, well, all of them!
Labels: daphne guinness
Comments:
i SAW Daphne Guinness in LA yesterday!!! she was with what i'm guessing is her son ( a teenage boy), they were at american rag on la brea keeping a very low profile, she was in all black and they had a few bags worth of purchases! love her.
Post a Comment
Subscribe to Post Comments [Atom]
<< Home
Subscribe to Posts [Atom]