4/09/2008
the bandits be my weaknesses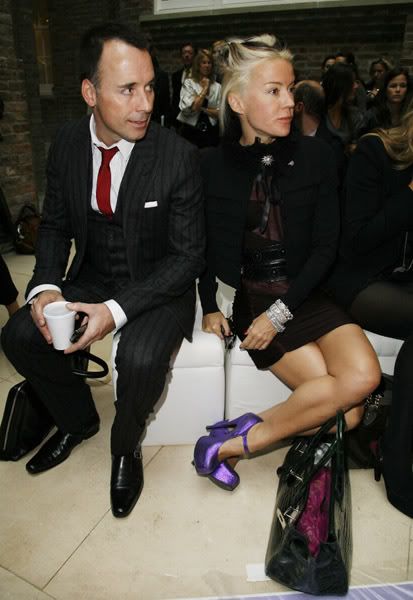 In what is a most incredibly epic move, Daphne Guinness is auctioning off what is probably not even a huge hit to her wardrobe for
Kerry Taylor Auctions/Sotheby's
on April 29th for the Womankind Worldwide charity. You can peruse the 267 lots, many of which include at least 3 or more pairs of shoes, dresses, trousers, jackets, belts, bags and more! The estimated bid on many of the auctions is way lower than I know it will actually soar to but if I had my picks, I'd take the
Ann Demeulemeester
&
Rick Owens
lots.
The
jeans lot
probably has some very cool jeans especially considering it includes the red pair that she X'd on the knees as seen in the Secret World of Haute Couture video I posted
before
. Also, I'll bet there are some cool
R'N'R tee's
up for grabs as well.
There really is so much available and while you're picking up some amazing pieces be sure that you're also helping out womankind in the process.
Labels: daphne guinness
Comments:
This is so awesome. I want her tshirt and jeans collection. Its probably going to go for at least 500 pounds. Way more than the estimated price!
Post a Comment
Subscribe to Post Comments [Atom]
<< Home
Subscribe to Posts [Atom]