4/08/2008
come on, baby, take a chance with us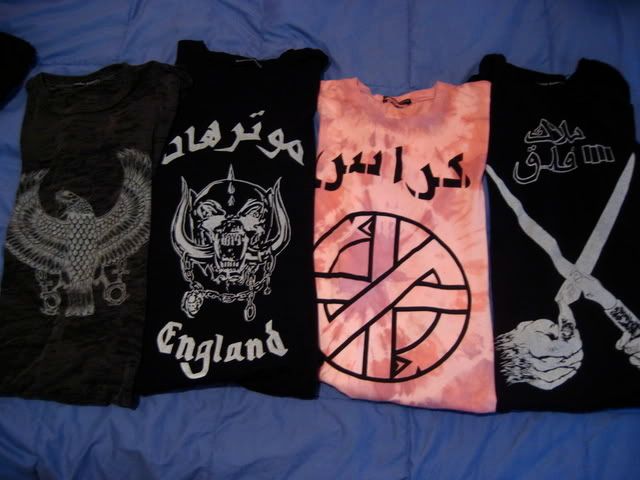 Epicly enough, this package from Brendan Donnelly (who I've mentioned recently made the killer Black Flag shirt) was also on my door step yesterday and can I just say, OMGG I love these shirts so much. Not only are they printed on like the softest tee's ever but he seriously killed it with each design. My boyfriend is claiming the Black Flag shirt as his and I don't think you'll be able to get me out of the Motörhead tee for a while. Thanks Brendan!!
Labels: brendan donnelly, R'N'R
Comments:
they are soooo amazing, aren't they??? i have the grey velvet underground one and i love it SO much. hmm. need to wear it tomorrow i think. i also begged him to make a totebag for me out of this grateful dead pharoah with misfits skeleton hands and raybans that he had..it's sick. yeah bdonns!
wow! thanks soo much for posting this!! i would've made one for your bf if you asked me too, gotta get the gifts to everyone.
duuude, bdonz gave me a pink tiedye motorhead, the black flag, and the misfit tut in blue tiedye. we are so putting his illustrated ones in the good the bad and the ugly and every dude i know in this world is drooling for the crass tee he gave ty from team robespierre.
Post a Comment
Subscribe to Post Comments [Atom]
<< Home
Subscribe to Posts [Atom]